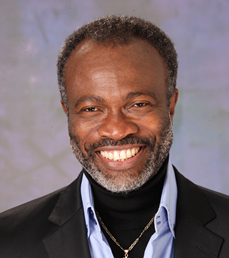 Welcome
Dr. Joseph Michael Levry is an author, composer, international speaker, producer of sacred music and dedicated teacher.  In his work, Dr. Levry pursues his vision of providing humanity with tools for a healthy lifestyle, peace and happiness.  His student base includes people from all backgrounds, age groups and spiritual orientations.  The Santa Monica Chamber of Commerce commended Dr. Levry as a "Global Visionary" and "Local Leader" for both his international and local contributions to community.
Vision
Dr. Levry is realizing his life's vision of reviving the primordial heart and spirit of humankind with a pure and effective body of knowledge that is referred to as Divine Spiritual Wisdom.  He can be heard saying in many of his classes, courses and events, "It is our job to give hope to the hopeless, faith to the faithless and love to those without love." Dr. Levry passionately devotes his life to presenting science and spirituality from a unified perspective that allows humanity to navigate the fluctuations of life through an expanded understanding of the immutable mathematical laws of nature through which the Divine operates. His early upbringing and educational background prepared him both in the mathematical sciences and in metaphysics, in essence, providing him with a sound understanding as to the fundamental questions concerning the nature of reality. He holds both a bachelor's and master's degree in Industrial Engineering from Polytechnic Institute in New York City, was groomed in early childhood by a pristine lineage of Rose-Croix Kabbalists as to the laws of metaphysics, and was awarded a Doctor of Philosophy (PhD) in Metaphysical Science from the Institute of Metaphysical Humanistic Science. Physics, quantum physics and metaphysics, alchemy and chemistry provide the theoretical framework for the mechanisms at work within Naam Yoga and the Harmonyum Healing System that Dr. Levry developed.  
"It doesn't matter how powerful you are. It doesn't matter how
much money you have. It doesn't matter how beautiful you
are. What matters is how much of a difference you can make in
other people's lives. How many hearts can you open?"
Dr. Joseph Michael Levry
Philanthropic Contributions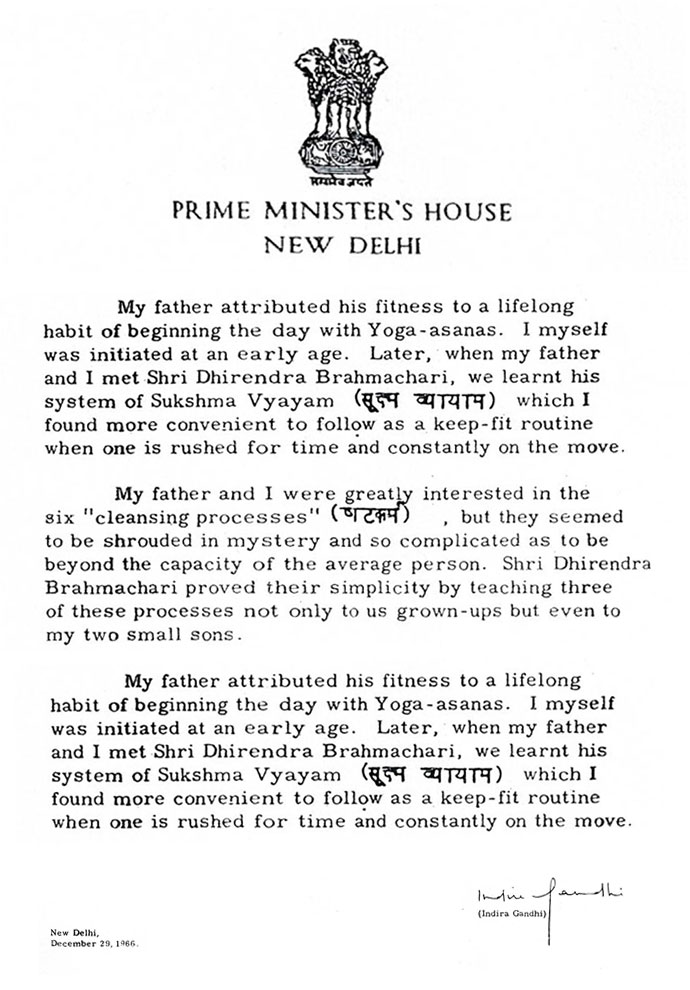 Founder of Naam Yoga and Shakti Naam Yoga
In 2006, after decades of travelling, studying, exploring and implementing practices within various mystical traditions and yogic sciences, Dr. Levry merged what he observed to be the most healing and therapeutic applications for lasting health and wellbeing under the single discipline of Naam Yoga. This powerful form of yoga is a carefully selected treasury of the world's finest healing arts and metaphysical principles, and a symbol of Dr. Levry's lifelong mission to provide humanity with the purest, most sophisticated tools for self-healing.  The discovery, documentation and preservation of ancient wisdom is generally classified as a branch of anthropology.  Scholarship, spiritual mastery, ongoing exposure to authentic saints and guardians of spiritual wisdom and decades of experience and observation are necessary to successfully apply historical wisdom to the modern condition of humanity.  Dr. Levry, through the keen lens of his academic and spiritual background, continually breathes new life into these vast and arcane traditions, rendering Naam Yoga a living body of knowledge. Naam Yoga represents the merging of Divine Spiritual Wisdom, various forms of Kundalini Yoga and Chinese medical philosophy.  Additionally, in 2011, Dr. Levry officially merged the practice of Sukshma Vyayama, a rare and secret practice stemming from the Himalayas, with Naam to form what is known as Shakti Naam Yoga.  This cohesive and intricate practice contains threads of wisdom deriving from several traditions dating as far back as Patanjali who is said to have written the Yoga Sutras and is considered to be the father of yoga.  Historically, the Chinese and Indian civilizations traded technology and culture and their respective medicine and philosophies bear striking similarities.  Divine Spiritual Wisdom, the mathematics of spirituality, was carried through Egypt, Arabia, Greece, Rome, Europe, Latin and North America and across the world.  The merging of these major world traditions, through the practice of Shakti Naam Yoga, is a major historic achievement and provides an opportunity for the recognition that light and wisdom was held universally throughout the world by all peoples.
Founder of the Harmonyum Healing System
Dr. Levry is the founder of the Harmonyum Healing System, the psychotherapeutic application of Divine Spiritual Wisdom, also known as Bio-Metaphyscial Medicine.  It is a transcendental healing system that addresses the innate relationship of the body and the mind. When there is an imbalance in the emotional or mental patterns, physical imbalance often follows. Harmonyum is a spiritual answer that addresses the unseen root of physical problems, awakening the self-healing capacity within an individual. Harmonyum can help one give up addictions by addressing the underlying roots of emotional and mental imbalances and has been effectively applied in addiction rehabilitation centers. As Christina Pabers PhD, L.Ac states in a treatise on the Harmonyum Healing System, "Harmonyum employs the ancient art of utilizing the acupuncture meridians via the body's electromagnetic field." The metaphysical medicine of Harmonyum which supports the brain and neuroendocrine system is one of the historical and outstanding contributions Dr. Levry has made to society.
Healing and Research Centers
In 2001 Dr. Levry founded Universal Force Healing Center in New York City, a 501©(3) not-for-profit organization dedicated to offering self-healing modalities to the public. In 2011 Dr. Levry redirected his efforts to Santa Monica and opened Naam Yoga LA, which became the new international headquarters for Naam Yoga. It is also a 501(c)3 not-for-profit organization whose mission resonates with Dr. Levry's vision of empowering people to improve their lives.  Under Dr. Levry's direction, Naam Yoga LA's outreach program, which is known as Giving Naam, has served over 60,000 individuals and held over 9,200 community outreach classes in the last four years, all offered for free, or by donation, in the area of Santa Monica alone.  Both Naam Yoga LA and Giving Naam have been commended by the mayor of Santa Monica, Pam O'Connor, as a positive contribution to the city and Naam Yoga LA has been featured on Good Day LA.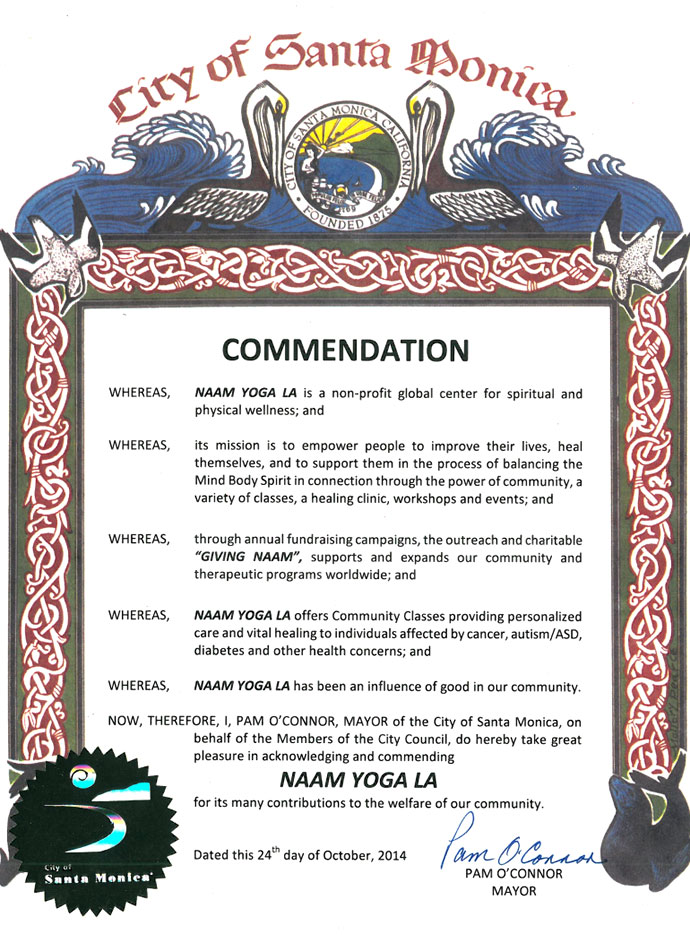 Naam Yoga LA Main Studio and Shakti Naam Class Highlights
Divine Spiritual Wisdom
Dr. Levry has personally consulted with more than 90,000 people, traveling extensively around the world for more than three decades. In addition to leading corporate lectures, retreats and consultations on how to apply Divine Spiritual Wisdom to business, he also serves local and international students. His efforts are inspiring new generations of Naam Yogis to share within their communities the knowledge which has transformed their own lives, resulting in the creation of over 10 Naam Yoga centers worldwide dedicated to making the self-healing technology of Divine Spiritual Wisdom.
Global Gatherings for Peace and Healing (Naam Yoga Superclasses)
Born out of his lifelong desire to provide people from all walks of life with authentic tools for self-healing and to make a difference in the lives of others, Dr. Levry has implemented annual Global Gatherings for Peace and Healing, also known as Naam Yoga Superclasses for Peace. While Naam Yoga has helped thousands of people to heal personally on an individual level, the Global Gatherings for Peace and Healing offer Naam Yoga to all of humanity in the service of world peace and global healing.  These massive global meditation classes are free public events dedicated to peace.
The sixth and most recent Global Gathering for Peace and Healing took place on November 26th, 2017, where 318,000 people united in the massive Zócalo square of Mexico City, online around the globe, and via live television broadcast, to pray for love, peace and light and healing for the entire world. The seed for the first global gathering was planted in 2010 and the events have continued to build, flourish and attract an ever-increasing amount of participants and media exposure each year.  The second superclass took place in Zocalo Square in 2011 bringing together 12,000 people. The third superclass occurred in 2012 at the Revolution Monument and was attended by 15,000 people and the fourth class took place at the Angel of Independence in 2014 and had an unprecedented 21,000 people in attendance on-site. In the fifth class on November 29th, 2015, an estimated combined number of 100,000 people attended in-person and online, making it the largest gathering of its kind in history.
Leading media outlets from around the world from Asia to Europe to North and South America covered these historical events dedicated to peace, among them CNN, Fox News, Der Spiegel, Televisa, Huffington Post, Der Tagesanzeiger, Vanguard and Reforma Corazon De Mexico. Dr. Levry holds that when a certain number of people come together in meditation, chanting Naam and holding the vision of peace, the impact is squared by the number of people present.  The government of Mexico City, inspired by the positive results of these superclasses, requested Naam Yoga classes be taught to the general  public for free once a week.
The 2017 Global Gathering for Peace and Healing (Naam Yoga Superclass) united over 318,000 people in person, online, and via live television broadcast in the historic and massive Zocalo Square of Mexico City. This is the largest Global Gathering for Peace and Healing to date. These global events use the universal healing technology of Naam Yoga, combining Naam or mantra meditation that uses harmony, rhythm and breath in precise mathematical formulas designed to recalibrate the body, open the heart and unite all participants for one intention-peace.
Worldwide Tours
Courses and Lectures
For over three decades Dr. Levry has lectured extensively in Europe (Czech Republic, England, France, Germany, Portugal, Spain, Sweden, Switzerland), in America (Alabama, Arizona, California, Georgia, Hawaii, Massachusetts, Miami, Minnesota, New Mexico, New York, Texas), in Latin America (Brazil and Mexico), Canada, Israel, Japan, New Zealand and West Indies.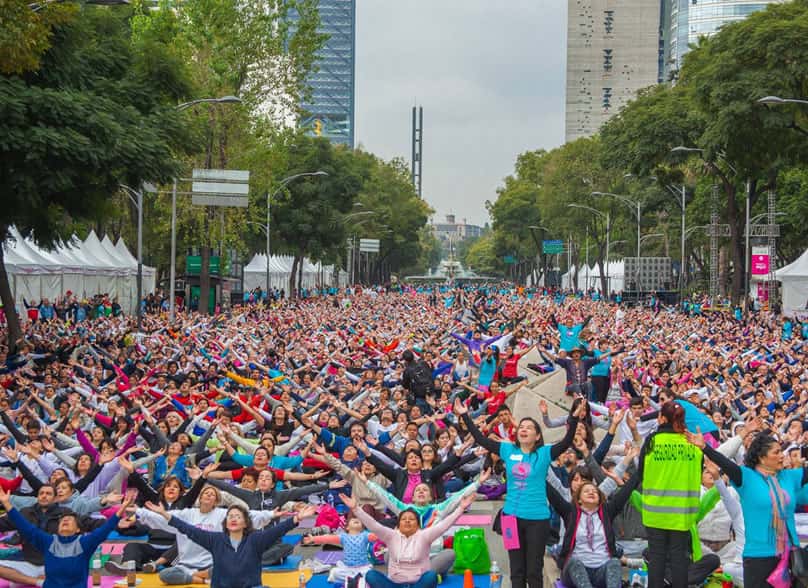 Superclass for Peace 2015 in Mexico City, MX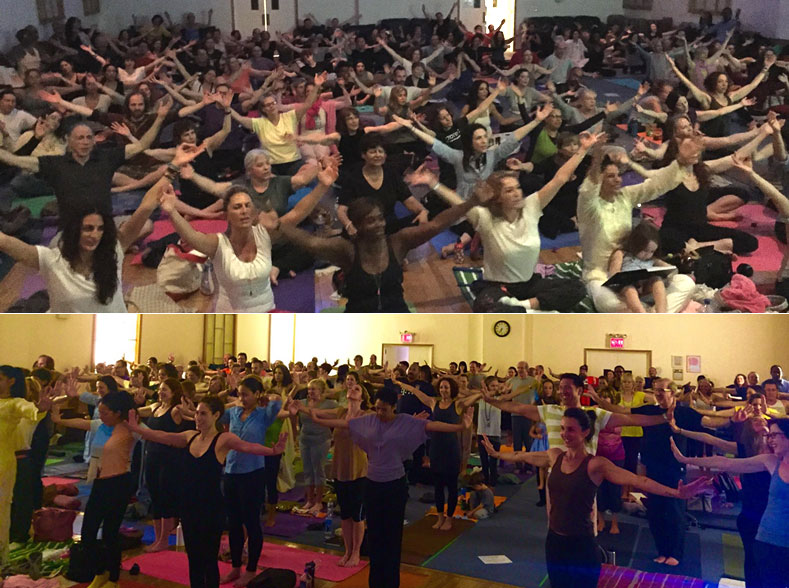 Shakti Naam in New York City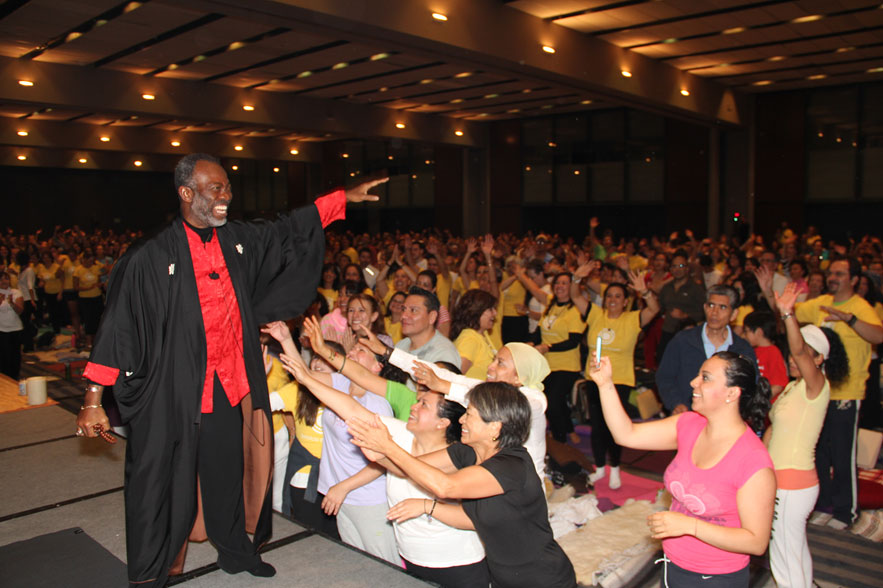 Summer Solstice in Mexico City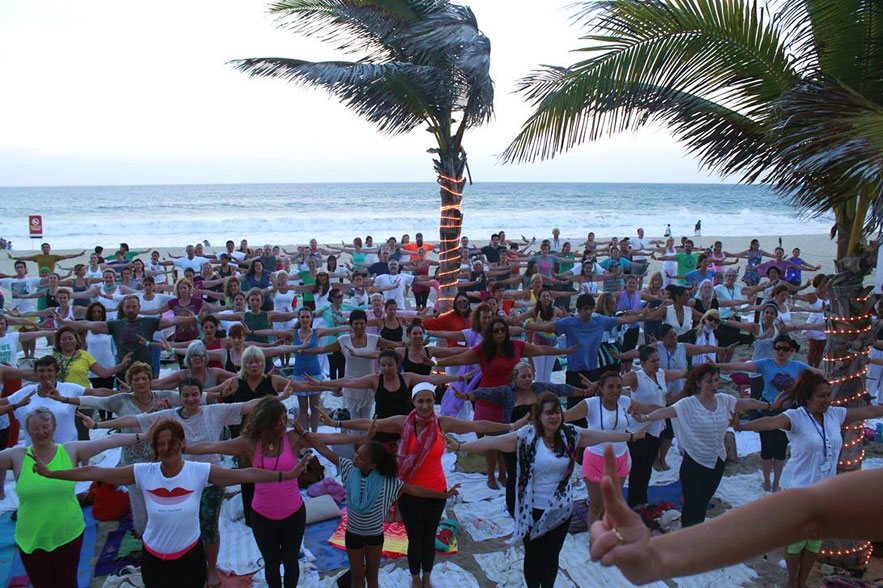 Shakti Naam in Cabo San Lucas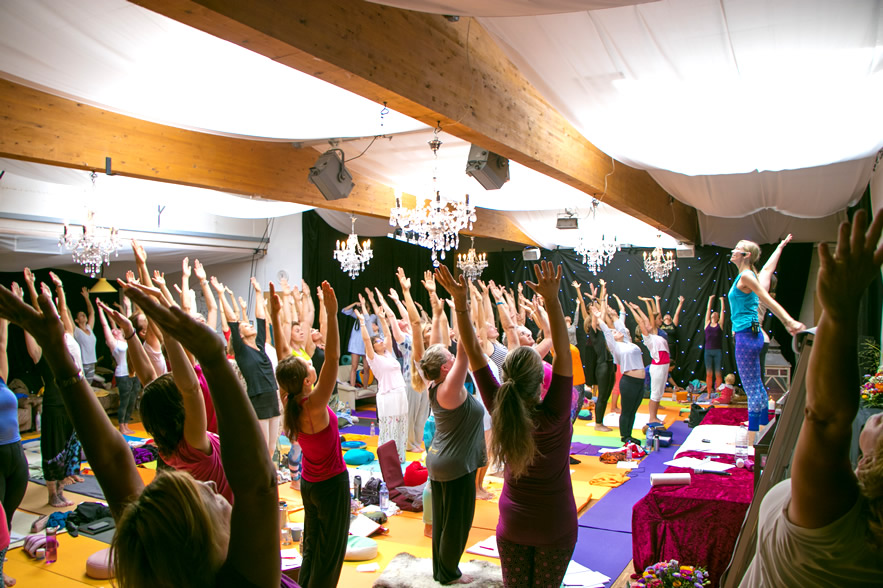 Shakti Naam Yoga in Germany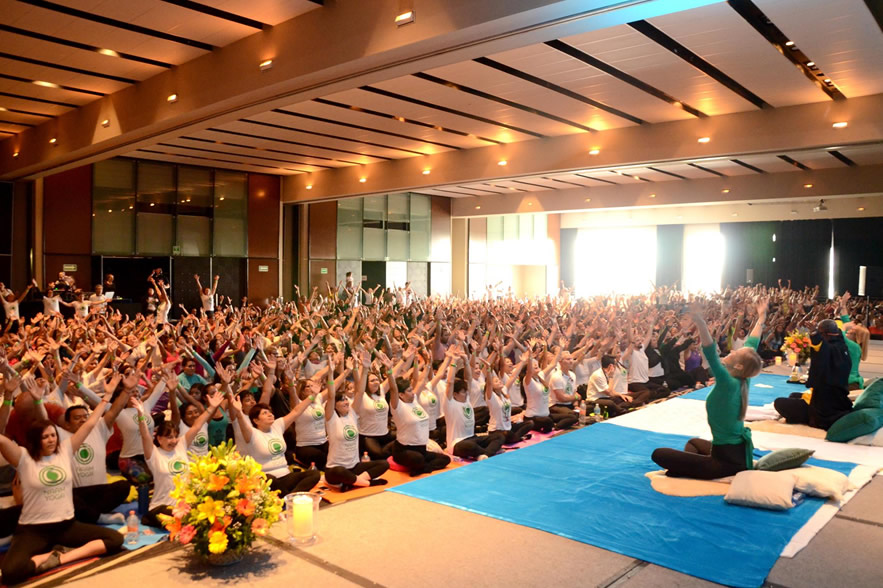 Summer Solstice in Mexico City
Summer Solstice Video Highlight #1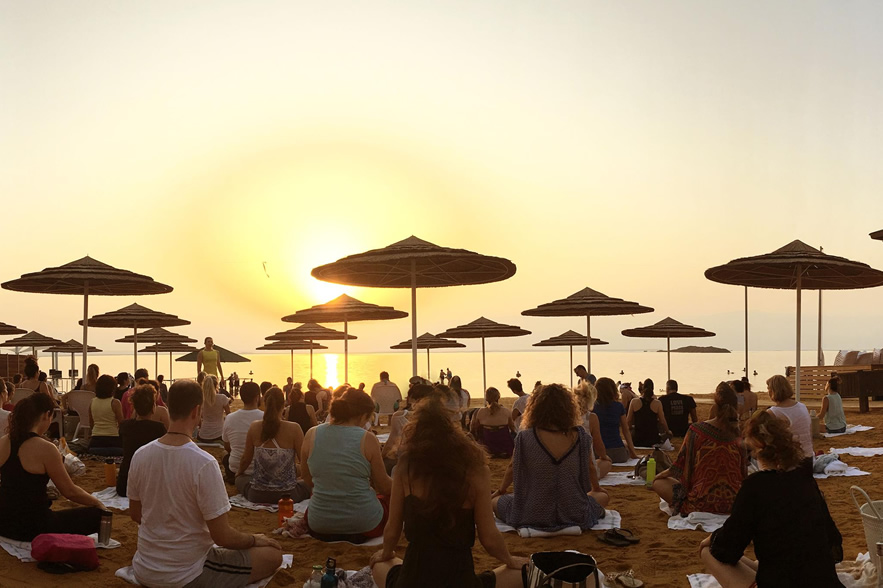 Sunrise Meditation at the Dead Sea, Israel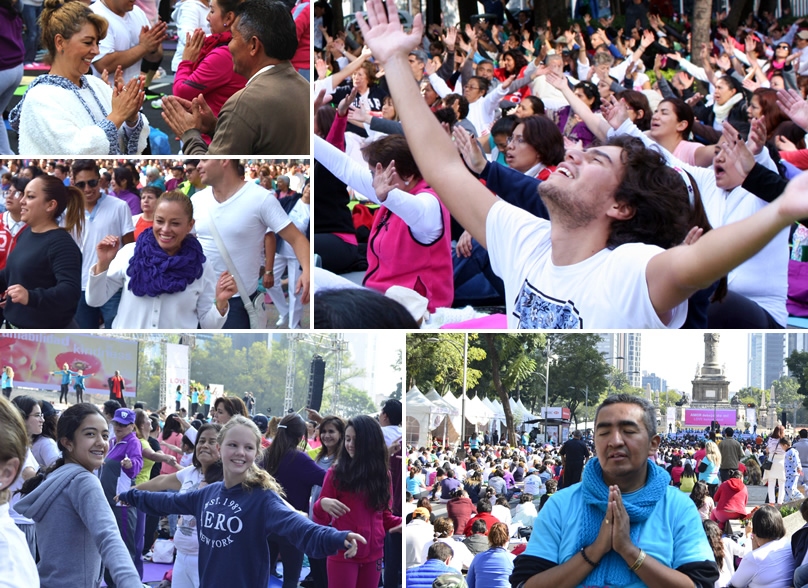 Superclass for Peace 2015 in Mexico City, MX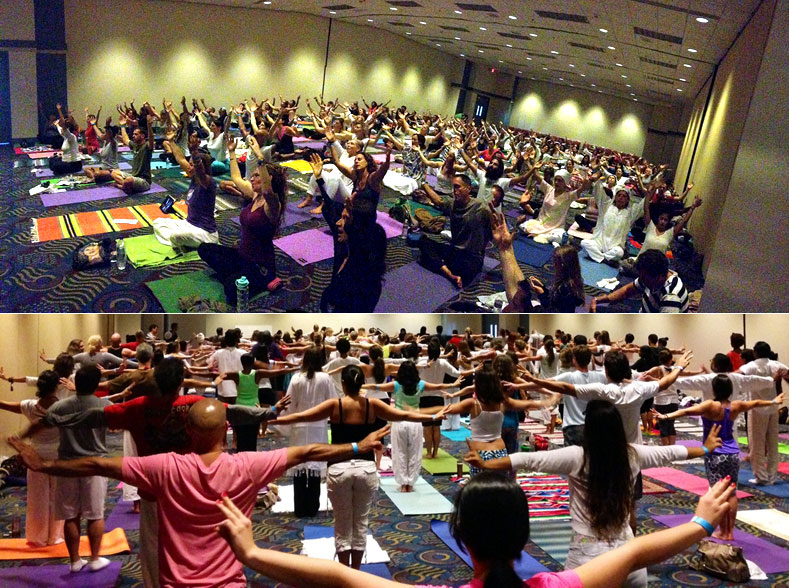 Shakti Naam Masterclass in Miami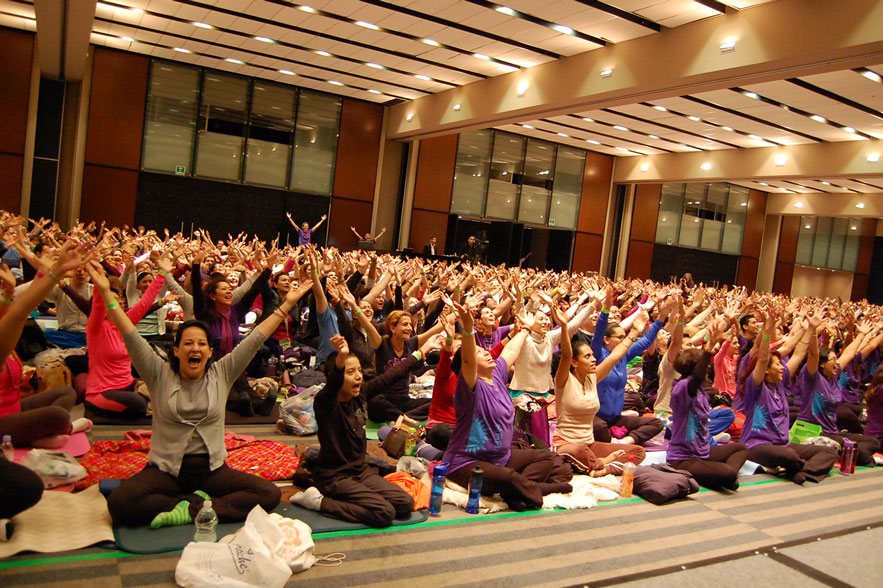 Summer Solstice in Mexico City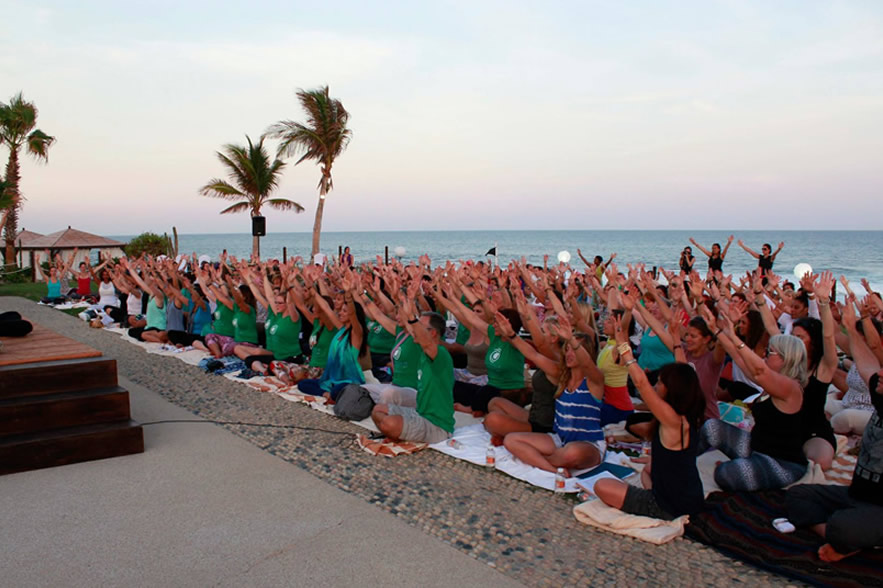 Shakti Naam in Cabo San Lucas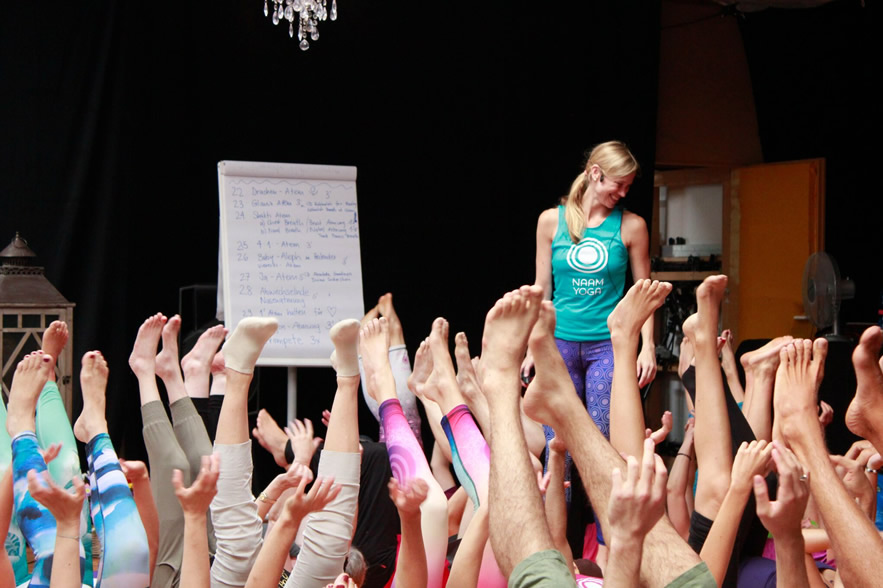 Shakti Naam Yoga in Germany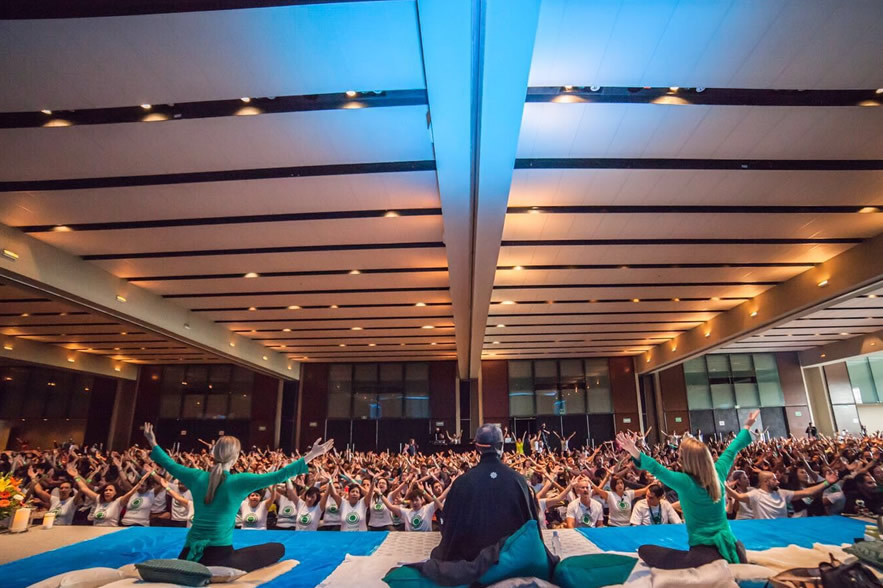 Summer Solstice in Mexico City
Summer Solstice Video Highlight #2
Divine Spiritual Alchemy Retreat with Dr. Levry in Israel and Praying for Peace at the Wailing Wall (click to view highlights)
Principles
Dr. Levry's work is a testament to the core principles of Universal Kabbalah that he teaches. His teachings describe the inseparable relationship between all of nature and the individual through set mathematical formulas which describe the cycles of nature and how to master them. They offer a comprehensive model for the physiology of the brain, nervous and endocrine system and cardiovascular system supplemented by a complimentary model of psychology. They present a practical paradigm that enhances our understanding of the biology of nature and the structure of the universe. Historically, this body of wisdom represented the early archetypes of modern-day physics and chemistry.  Dr. Levry presents a thorough curriculum that pairs intellectual understanding with ideals that promote happiness and psychological wellness. Compassion, service and positive thinking, actions, behaviors, language and perception are some of the essential practical tools contained therein.  Dr. Levry holds that Universal Kabbalah is a practical philosophy dedicated to the beneficent evolution of humankind. He reminds his students that it is how many hearts one has touched and how many people one has uplifted through the course of a life time that brings lasting contentment.
"There is no wound of mind, heart, spirit & body
whether past or present, that cannot
be healed with unconditional Love."
Dr. Joseph Michael Levry
Major Achievements
The Merging of Ancient Yogic Science with Kabbalah
The combining of ancient yogic science with Kabbalah is a major historical achievement:  for the first time in history, Eastern yogic science is being paired with a Western mystical tradition.    Not only has Dr. Levry brought these two systems together, he has simplified the Kabbalah from its previously intricate language so that it may be easily understood and applied to modern day life in a practical way.
The Advancement of Sound Meditation
Dr. Levry is a pioneer in the therapeutic application of mantra meditation coupled with healing music.  His compositions are constructed using the ancient principles of psychotherapeutic mathematics. They present a practical application of the Golden Ratio, or Golden Proportion considered by many to be the most pleasing of all harmonic divisions found on Earth, for self-healing.  In September 2015 at the International Scientific Meditation Conference 2015, results from the first significant study on sound meditation revealed that selections from Dr. Levry's healing CDs were clinically shown to have an exceptionally positive impact in pain reduction in children being treated for cancer at Memorial Sloan Kettering Cancer Center in New York City.  To date, Dr. Levry has produced over 40 different compilation healing meditation CDs that are being used by people from all walks of life to maintain elevated states of health and wellbeing.
Global Gatherings for Peace and Healing (Naam Yoga Superclasses for Peace)
True to his vision for global healing and world peace, Dr. Levry implemented Global Gatherings for Peace and Healing, massive global meditations that unite people from every walk of life for one intention-peace.  See "Global Gatherings for Peace and Healing" in Philanthropic Contributions above for more information.
"When you really do good you do not make noise and
noise has never done any good."
Dr. Joseph Michael Levry
Travels and Exposure
Early Years Dr. Levry first encountered yoga at the age of 14 through his older sister who had begun a formal practice of Hatha yoga in France. He began to study the subject and while travelling in India, Asia, Israel and the West Indies, received training in several spiritual disciplines.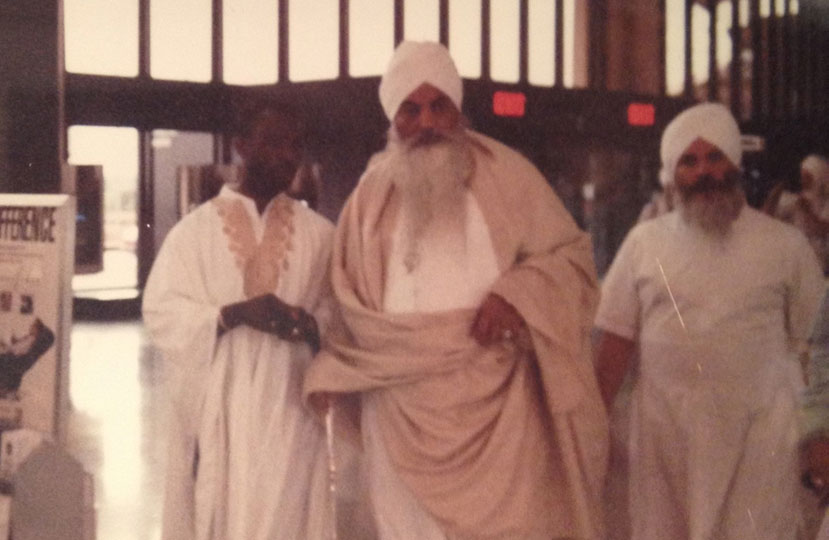 Yogi Bhajan Dr. Levry's early years in the US resulted in a life-long relationship with the late Yogi Bhajan, who was responsible for popularizing Kundalini Yoga in the West. It was through this relationship that Levry was given the spiritual name Gurunam. Yogi Bhajan publicly recognized and commended Dr. Levry for merging Kabbalah with Kundalini Yoga. Dr. Levry later became one of Yogi Bhajan's personal advisors for a period of time. "It took me 40 years to learn this science. It took you (Dr. Joseph Michael Levry) to write it down. This work shall live forever." — Yogi Bhajan, Ph.D., Master of White Tantric and Kundalini Yoga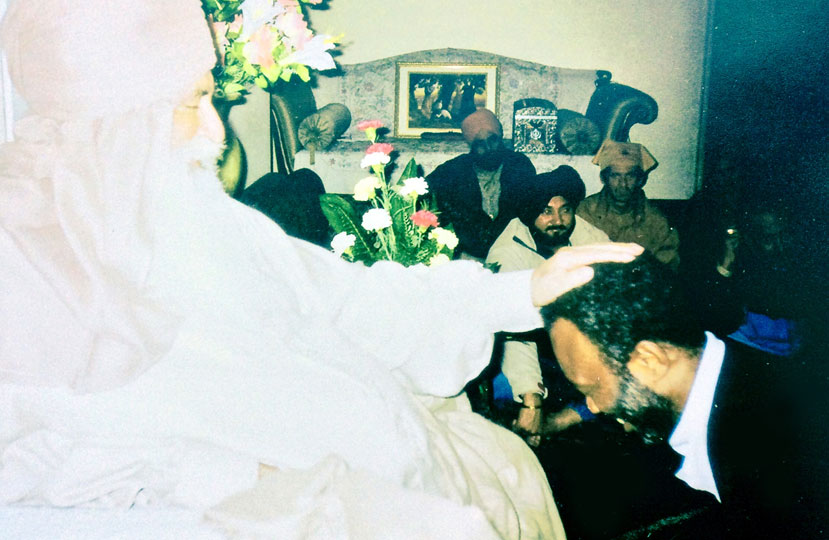 Baba Virsa Singh It is Baba Virsa Singh of New Delhi India, who blessed Dr. Levry with the Naam in a mysterious encounter during his travels in India in 2004.  This encounter inspired him to choose the name "Naam" for Naam Yoga. In the documentary "Shakti Naam Yoga: An Ancient Secret for a New Age", Baba Virsa Singh is seen blessing Dr. Levry.  Baba Virsa Singh, in turn, was personally influenced by the teachings, life and instruction of Baba Siri Chand, the son of Guru Nanak, the first of the Sikh Gurus.  Naam Yoga as taught by Dr. Joseph Michael Levry synthesizes the two modalities of Sukshma Vyayama and recitation of Naam.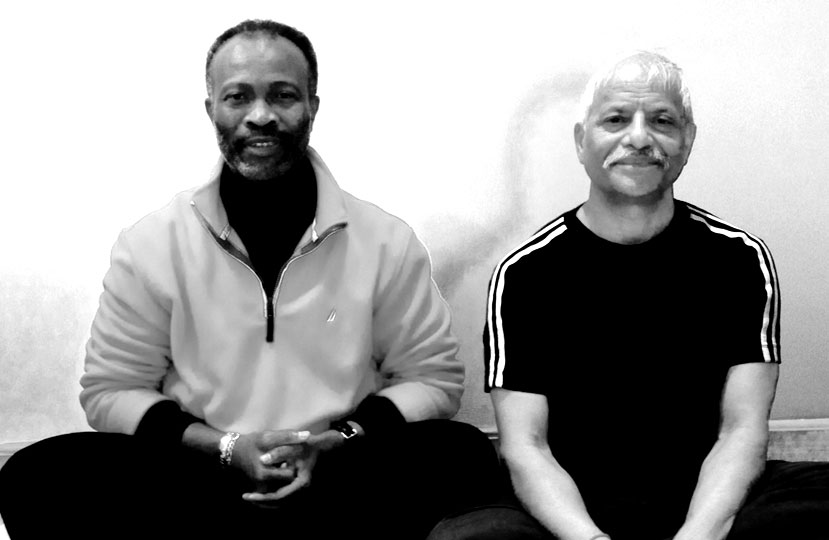 Works
The massive content that is the fabric of this body of educational material is evidence of Dr. Levry's life-long commitment to education, mentorship and research. Ten extensive certification courses and lifestyle programs emphasize scientific exploration into human anatomy, physiology, neurology and endocrinology and integrate those with the Eastern and Occidental metaphysical philosophy perspective of the body. Subjects range from fertility and prenatal health to optimization of the brain and nervous system, and extensive physical and spiritual applications pertaining to total wellness and specific health challenges. This extensively developed curriculum, in addition to his six books translated into multiple languages, serve as the primary knowledge base for students. In the field of music Dr. Levry has produced over 40 CDs comprised of mathematically produced healing vibrations which have been the subject of countless testimonials for their help in areas of health, family, psychological well-being and career advancement.
Books
Dr. Joseph Michael Levry is the author of six books. They describe the practical application of Divine Spiritual Wisdom and offer self-healing techniques and meditations from Naam Yoga and Shakti Naam Yoga in addition to covering topics such as improved love relationships, natural healing remedies and insight into the true nature of disease and how to effect a lasting cure.
Alchemy of Love Relationships, (expanded and revised edition), Joseph Michael Levry (2014), ISBN-10: 1885562268
Lifting the Veil: The Divine Code, Universal Kabbalah with Naam Yoga Therapies (new expanded & revised edition), Joseph Michael Levry (2014) ISBN: 978-1-885562-02-9
Shakti Naam Yoga: The Gift of Health, Practical Applications of Shakti Naam Yoga, Joseph Michael Levry (2014) ISBN: 9781885623027
The Code of the Masters: Universal Kabbalah with Naam Yoga Therapies, (new expanded and revised edition) Joseph Michael Levry (2014) ISBN 9781885562258
The Divine Doctor: Healing Beyond Medicine (new expanded and revised edition) Joseph Michael Levry (2014) ISBN-10: 1885562993
The Healing Fire of Heaven, (Previously called The Splendor of the Sun) Joseph Michael Levry (2002) ISBN-13: 978-1885562265
Sacred Music
Dr. Levry selects mantras, based on the findings of his extensive research, that are particularly efficacious for the challenges of this age, in the production of his 37 sacred music CD series. These are masterfully crafted spiritual tools that link mantra to breath in powerful healing ratios (using the primordial mathematical laws of Divine Spiritual Wisdom) known to recalibrate the nervous system and promote the birth of new neurons in the brain (neurogenesis). They induce profound internal shifts that allow us to open our hearts and view life from an elevated perspective. Disease, emotional imbalance, financial challenges, stress, anxiety, mental imbalance and depression are a few of the common challenges these CDs can help to alleviate. For thousands of years, saints and sages have recommended the use of mantra (Naam) as a form of "mind medicine." Indeed, they possessed the scientific understanding of the sacred permutation of sound through which mantra helps to transmute unhealthy patterns inhabiting the deep recesses of our consciousness. In essence, there are eighty-four reflex points in the upper palate that are massaged during chanting meditation which in turn stimulates the hypothalamus and then the pineal and pituitary glands, promoting the secretion of chemicals such as serotonin which are associated with feelings of wellbeing, peace and security.  Today Dr. Levry's creative work has yielded more than 153 tracks meant to enhance one's overall wellbeing.
The Great Spirit 

Lifepulse 

Messages of Light 

Absolute Goodness 

Let There Be Light

Naam Mala Meditation 

Blessing Naam 

Sacred Naam 

Pranic Power 

Sacred Aum 

Naam Infinitum 

Naam Pure Consciousness Activation 

Celestial Naam 

Forever Naam 

Golden Shield 

BhaktiNaam 

Blissful Spirit 

Green House

Healing Fire 

The Healing Spirit of Ra Ma Da Sa

Heaven's Touch 

House of Ram 

Invocation of Divine Light

Kabbalah for Healing 

Lumen De Lumine

Mystic Light 

The Naam Groove 

Naam Lounge 

Naam Lumiere

Om House 

Primal Vibrations 

Pure Naam

Ra Ma Da Sa Healing Sound 

Soul Trance 

Sound of the Ether 

The Flow of Naam 

The Healing Beat of Naam

The Seal of Higher Destiny 

Touch of Naam

Triple Mantra 

Heart of Naam
Other Writings
Dr. Levry contributes regularly to the Rootlight Newsletter archive discussing subjects such as unconditional love, the power behind giving, how to strengthen the electro-magnetic field, the nature of suffering, the science of Naam, the origins of Shakti Naam, Harmonyum, positive speech, how to overcome health challenges and many other topics.
"My prayer has always been for love, faith and hope
to unite in your heart so that the Divine may be glorified
in your soul and you may become an extension of God and
make a difference in other people's lives by serving them.
Dr. Joseph Michael Levry